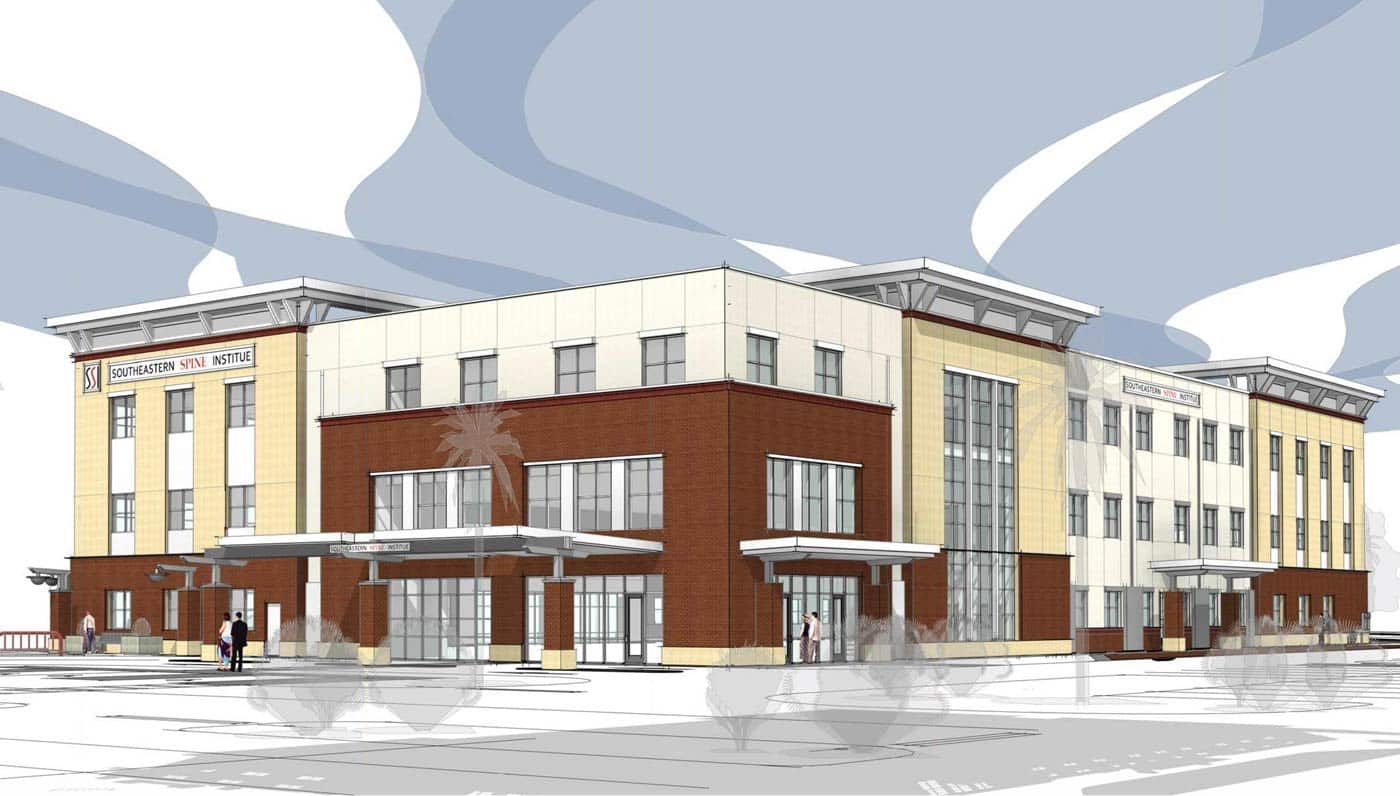 The Southeastern Spine Institute and Ambulatory Surgery Center (SSI) moved in March 2020 to its current address at 1625 Hospital Drive, Mount Pleasant, SC — just down the street from its previous location. That old location provided plenty of parking and two buildings containing all the equipment and expertise needed for back care on one campus.
So why did the spinal practice move and why now? And why did it move such a short distance away? These are all valid questions, and all have logical answers.
Expanded Space
At its previous location on Chuck Dawley Boulevard in Mount Pleasant, SSI had a finite space. It would have been an impossible task to expand while remaining open to patients. Additionally, the buildings themselves would have been difficult to enlarge in a patient-friendly, ergonomic way, while maintaining the beauty and peaceful atmosphere.
At 41,000-plus square feet, the old office space served its purpose for a number of years. But it had its limitations. The new location offers 65,000 square feet of functional space. The new space is more modern in design, too, which reflects SSI's cutting-edge philosophy of spinal medicine. Finally, the new location includes an expanded parking area to better serve you.
A Spinal Practice for Other Ailments
Originally, SSI operated solely as a spinal practice. Within the existing space, every specialty and all the equipment available were put to use in the service of spinal care and back treatments. But with the arrive of Dr. Marc Haro and others, SSI grew into a multi-disciplinary practice, capable of treating knee and shoulder issues as well as spine problems.
The same ambulatory surgical center (ASC) that was used for spinal surgery could be easily adapted, without the need for further equipment, for other types of outpatient surgery, too. As a result, the two ASCs in the previous location were experiencing an accelerating amount of scheduled usage. In short, SSI was outgrowing its offices.
The new facility features six ASCs, as well as accommodating new outpatient procedure rooms. The latest EMG, digital X-ray, fluoroscopy capabilities and magnetic resonance imaging (MRI) equipment, which are larger and more comfortable, are also part of the package at the new offices. You can now safely undergo necessary surgical procedures without waiting for a spot to open up in the schedule.
A Short Move up the Street
SSI didn't move far from its previous location. In fact, they're still in Mt. Pleasant. The new offices are less than 10 minutes from the previous location, and that was on purpose.
While the spinal practice attracts patients from all over the country, many still do come from the immediate area. Staying close to the original location prevents confusion. Another reason to move nearby is that the offices where SSI ended up are in a medical complex, making it easier to find.
More modern offices. State-of-the-art equipment. Several more ASCs to accommodate patients. New location close to the previous one. These are all good reasons to move a spinal practice; we hope you agree.