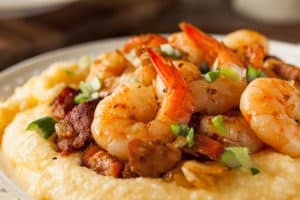 With a rich history and local passion, Charleston, South Carolina, is a prime location for dining out. If you're in town to visit one of the specialists at the Southeastern Spine Institute (SSI) either for yourself or as a helper, you're in for a treat. Charleston accommodates any and all taste buds and adventurous eating.
There are more than 1,000 restaurants, in addition to award-winning chefs and lively customers that all keep Charleston the eclectic and booming place it is today. From breakfast and brunch to fine dining and desserts, the Charleston food scene can't to be compared to anywhere else. Don't be surprised when you find out that a few of the local places trace their ingredients back to local sources too.
Breakfast and Brunch
According to foodies who've traveled through Charleston, the Hominy Grill, with their famous shrimp and grits, is the lead contender for a great place to get a breakfast fix. If you're looking for a brunch eatery, the High Cotton Charleston diner has a brunch menu available on Saturdays and Sundays. Its signature dish is the flaky Crab Eggs Benedict.
A new brunch bar located just off King Street, The Darling Oyster Bar, makes its own statement with a more modern brunch menu. With Charleston food, there's a wide variety of classic seafood dishes, as well as new and innovative seafood dishes, paired with morning fare. As The Darling Oyster Bar includes ingredients from local areas, it's a must for brunch.
Lunch Is Served
Whether you're looking for just a quick bite to eat or a sit-down meal, the Charleston food scene can provide it. Lunch is the perfect time to indulge in some casual dining while sitting outside and relishing the weather when it's appropriate. Some of the top-rated luncheon spots in Charleston include:
A reservation is recommended for the higher-end luncheon restaurants. Sit back and relax at any one of these prime locations of the Charleston food scene to enjoy an easy-going luncheon.
Dinner's Ready Now
Many of South Carolina's award nominees and winners are in Charleston to elevate the city's top restaurants. One of these award-winning Charleston food diners includes a 15-year-old establishment, Cru Café. The Cru Café serves a variety of gourmet foods all while taking in the atmosphere of an 18th-century seaside home. Other top-rated eateries include:
The many different restaurants serving you the best local food satisfy all your cuisine needs. From modernized restaurants to 18th-century replicas, these award-winning, top-rated eateries are scattered throughout the city, giving you the best Charleston food and a tour of the city.