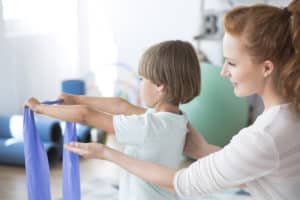 Back pain is one of the most common problems in adults, but many overlook the possibility of preventing it at an early age. Teaching kids at a young age can eliminate many back problems later in life. Show them how to take care of their backs, the risks that lead to back pain and the consequences of having chronic back pain.
The doctors at the Southeastern Spine Institute (SSI) encourage proper back care through lifestyle habits, consistent stretching and exercise, and ways to recognize back problems from the start. While your back specialist certainly can treat children with back issues, they'd much prefer to train them to prevent these issues by teaching kids to make good choices when it comes to their back care.
Healthy Lifelong Habits Start Early
Living a primarily stationary life, carrying excessively heavy backpacks to school and wearing improper shoes can lead to hidden back problems that arise later in life. Teach kids to lead a back-aware lifestyle so they develop lifelong healthy habits that prevent back problems. Some healthy lifestyle habits kids can incorporate in their daily life include:
Standing and stretching often during lengthy periods of sitting
Limiting stationary TV watching time
Reducing the amount of weight in their backpack by only carrying what's necessary for that day
Making greater use of school lockers if available
Wearing shoes that cushion and support walking and specific sports
Walking, stretching and participating in physical activities on a regular basis
Carrying excessive weight in backpacks is a major contributor to early stages of back pain, so it's ideal to find ways to alleviate this stress as early as possible. Teaching kids the proper way to make their daily lifestyle habits active and healthy encourages routines for preventing back problems when they're older. It's the same principle that applies to teaching them to brush their teeth twice a day, which helps prevent cavities.
Hobbies and Back Pain
Some hobbies that kids pick up at a young age can increase the likelihood of back pain as they get older. Teaching them how to have fun with their hobbies and how to properly care for their backs at the same time reduces the probability of future back pain. Teaching them how to maintain their back health is especially vital if they participate in:
Contact sports such as football
Playing computer games for long periods of time
A lot of TV watching
Drawing, painting or crafts
Consistent computer or phone use
Using proper posture while participating in an activity that requires long periods of sitting can aid in preventing back problems. Encourage them to get up, move around and stretch whenever possible. A number of sports put children at a higher risk for injury, but taking time to teach them how to play safely to reduce these injuries also reduces pain and injuries — and subsequent back issues later in life.
Encouraging kids to enjoy their hobbies while also improving their physical health can lead to fewer problems in their future. Teaching kids proper posture, to stay active and develop healthy lifestyle habits helps to prevent back pain at every age. If you're unsure how to address the topic, bring your children in for a visit to SSI.
SOURCES:
https://southeasternspine.com/kick-the-habits-that-lead-to-back-pain/
https://journals.lww.com/pedorthopaedics/Abstract/2006/05000/Back_Pain_and_Backpacks_in_School_Children.15.aspx
https://link.springer.com/content/pdf/10.1007/s005860050201.pdf
https://academic.oup.com/her/article/19/3/284/642234