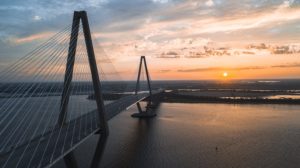 Charleston, South Carolina, is a city filled with history, charm and elegance. If you're visiting to see one of the spinal medicine specialists at the Southeastern Spine Institute (SSI) for back pain treatment, take time for a weekend in Charleston. It's a trip you'll remember for many years to come.
What is it about this Southern city that makes it so unique and memorable? With its variety of exceptional cuisine prepared by well-renowned chefs, coupled with its culture of music, theater and museums, there's truly something for everyone. You may find that Charleston is a place you want to keep visiting year after year, even once your back is pain-free.
Dining Experiences to Enjoy During a Weekend in Charleston
There is a huge variety of cuisine to experience during your weekend in Charleston. From romantic and elegant to relaxed and casual settings, whatever type of food or atmosphere you're looking for can be savored during your visit here. From family-friendly and kid-friendly restaurants to fine dining, Charleston has something you're sure to enjoy.
Some Charleston dining establishments that come highly recommended include:
Breakfast in Charleston can be simple or elaborate. Enjoy a variety of French cuisine, including sweet or savory crepes at Breizh Pan Crepes. If you'd rather grab food and go, consider a visit to Callie's Hot Little Biscuit, where you can savor warm, buttery and flaky biscuits so tasty, the locals keep coming back for more.
Lunch in this special city is never boring. If you're interested in a healthy plant-based lunch, the Gnome Café offers both healthy sandwiches and hearty salads, not to mention decadent desserts. For a wide variety of deli favorites for lunch, check out East Bay Deli. If you're thinking pizza and salad, be sure to visit Monza Pizza Bar in downtown Charleston, where you'll find a casual atmosphere and cooking that follows strict standards.
Dinner choices in Charleston are practically unlimited, as award-winning restaurants are scattered throughout the city. One example is the Charleston Grill, an unforgettable culinary experience in an eatery known for its signature crab cakes. Another highly recommended choice is FIG, where delicious food is always prepared with quality ingredients.
Sightseeing During a Weekend in Charleston
If you're in Charleston because of back problems, that doesn't mean you can't enjoy some of the unique sights to see and the fun things to do during your weekend in Charleston. Enjoy a scenic and relaxing experience by going on the Charleston Harbor Tour. On this tour, you learn about Charleston's rich history, and you see more than 75 points of interest.
The South Carolina Aquarium is a fun destination for the entire family. Set on the historic Charleston Harbor, it's located in Liberty Square next to the dock where you can enjoy harbor tours and tours of Fort Sumter. The aquarium is home to more than ten thousand animals and plants. It's fully wheelchair accessible with no steps required to get to the entrance. It's sure to be one of your most memorable experiences while you're here at SSI in Charleston!