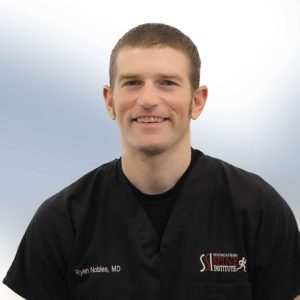 Education and Background
Experience
Professional Associations
Curriculum Vitae
Education and Background
Dr. Ryan Nobles is an integral member of the Southeastern Spine Institute Pain Management Department. He is Board Certified in Anesthesiology and Pain Medicine by the American Board of Anesthesiology. For the first four years of his professional career following training, Dr. Nobles served as an assistant professor and physician in the chronic pain management clinic at the Medical University of South Carolina. His current clinical interests include spinal cord stimulation and dorsal root ganglion (DRG) stimulation as innovative new treatments for a variety of pain conditions. He also employs injection therapy for all areas of spinal pain and medication management when necessary.
Dr. Nobles has authored several book chapters and published articles on topics ranging from appropriate opioid prescribing to interesting case studies involving spinal cord stimulation. In addition, he has taught courses to other physicians on a variety of pain procedures at national and regional conferences.
Dr. Nobles completed his Bachelor of Arts at Presbyterian College in Clinton, SC (where he was also granted the Valedictory award) and then obtained his Medical Doctor degree from the Medical University of South Carolina (MUSC). He remained at MUSC to complete a residency in anesthesiology where he was awarded the Resident Research Award and then traveled to Emory University to complete a fellowship in pain medicine.
He has been a primary investigator on multiple research projects and continues to employ innovative pain treatments at Southeastern Spine.
Experience
Professional Associations
Curriculum Vitae