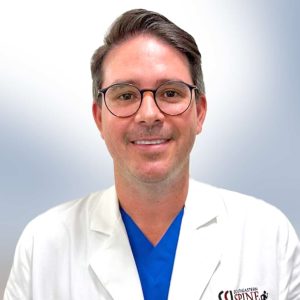 Bio
Education
Board Certification and Associations
Academic Honors, Awards and Publications
Bio
Dr. Mosier, a board-certified physiatrist is excited to join Southeastern Spine Institute as part of the conservative care team. He is passionate about spine medicine and helping his patients restore their quality of life by helping them explore nonsurgical treatments for their pain. 
Southeastern Spine excited have to this accomplished physician joining their team; Dr. Mosier completed his undergraduate degree at the University of Southern California and later received his MD from the American University of the Caribbean. He then completed an internship in Internal Medicine at Flushing Hospital Medical Center in Queens, NY followed by his residency in Physical Medicine and Rehabilitation at One Brooklyn Health – Kingsbrook Jewish Medical in Brooklyn, NY, where he served as Chief Resident in his final year. Afterwards he successfully completed a one year fellowship accredited by the North American Spine Society in Interventional Spine and Musculoskeletal Medicine at OrthoAlabama Spine and Sports in Birmingham, Al, where he trained under Dr. Bradly Goodman and Dr. Srinivas Mallempati. 
Originally from Southern California, he and his wife Rosalyn are excited to be in Charleston, her hometown. They have four rescues Bonnie, Jemison, Deannie, and Polly. In his spare time he is an avid golfer and also enjoys hiking, snorkeling, gardening, and spending time with family. 
Education
Board Certification and Associations
Academic Honors, Awards and Publications