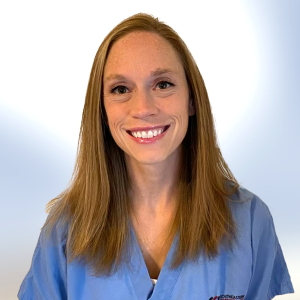 Background & Education
Mrs. Nix was born and raised in Atlanta, GA. She moved to Charleston, SC to attend college and has now made it her home. She was excited to join the SSI team in 2013 to be able to work inter-professionally with a variety of providers in conservative care, surgery, and pain management to provide a well-rounded approach to patient care.  Mrs. Nix and her family love the outdoors and take every opportunity to enjoy all of the amazing parks and beaches that Charleston has to offer.
Mrs. Nix attended the College of Charleston and graduated Cum Laude with a Bachelor of Science in Psychology. After graduation, she went on to work at the National Crime Victims Research and Treatment Center at the Medical University of South Carolina where she was able to have a hand in both research and clinical patient care. She fell in love with the clinical side of medicine and decided to go back to school to become a Physician Assistant. She earned a Master of Science in Physician Assistant Studies from the Medical University of South Carolina.
2011-2013 Master of Science in Physician Assistant Studies
Medical University of South Carolina, Charleston, SC
August 2013, GPA 3.5
2003-2007 Bachelor of Science, Psychology
College of Charleston, Charleston, SC
May 2007, Cum Laude
1999-2003 High School Diploma
St. Pius X Catholic High School, Atlanta, GA
May 2003, Graduated with honors
Honors and Distinctions
Clinical Experience
Board Certification and Associations
Community Outreach