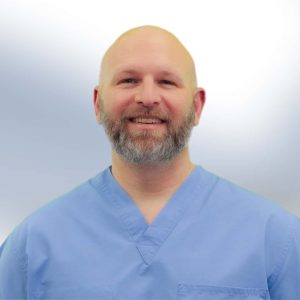 Background & Education
Board Certification and Associations
Physical Fitness = Physical Health
Background & Education
Mr. Swain began his career in health care, humbly enough, as a licensed massage therapist. He moved on to become an ACE Certified Personal Trainer. Since he's always been fascinated with human anatomy and musculature, it makes sense that he eventually became a certified Physician Assistant.
He joined the Southeastern Spine Institute in 2005, and has never looked back. As part of the SSI team, he enjoys working on SSI's three-acre independent medical campus that includes two 22,000-square-foot buildings filled with state-of-the-art equipment, a pain management department, three MRIs, physical therapy facilities and South Carolina's only accredited ambulatory surgery center (ASC) dedicated specifically to back and neck surgery.
Mr. Swain began his higher education at Presbyterian College in Clinton, SC, where he majored in Pre-Medicine and Mathematics. Then he attended the Southeastern School for Neuromuscular and Massage Therapy. He received a Bachelor degree in Physical Education from the College of Charleston, where he graduated Cum Laude. His schooling ended when he earned a Master of Science degree in Physician Assistant Studies from the Medical University of South Carolina (MUSC).
His clinical rotations took him through nine subspecialty training programs, each focused on a different specialty, such as Emergency Medicine and General Surgery. Included in his rotations was a preceptorship in Spine Surgery with Dr. Steven Poletti of SSI.
Board Certification and Associations
Physical Fitness = Physical Health