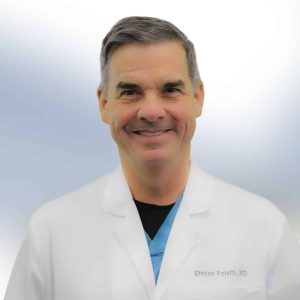 Education and Background
Board Certification and Associations
A Life in Spine Medicine
Testimonials
Education and Background
Dr. Poletti co-founded The Southeastern Spine Institute 30 years ago.
Since then, Dr. Poletti has grown Southeastern Spine (SSI); adding physicians in all areas of spine medicine while utilizing the latest technologies found anywhere in the country.
Dr. Poletti helped Southeastern Spine mature into the largest Spine-Only practice in South Carolina and expand to it's new State-of-The-Art Medical Center located in Mt. Pleasant.  
Here you will find the the latest medical equipment, MRI machines, physical therapy facilities and pain management.
Also within the new facility, Southeastern Spine now has South Carolina's only accredited ambulatory surgery center (ASC) dedicated specifically to back and neck surgery.
Dr. Poletti graduated with honors from the University of California Medical School in 1985. He completed his internship and residency in General, Thoracic & Orthopedic Surgery at Duke University Medical Center in Durham, North Carolina.
He was selected Chief Resident in Orthopedic Surgery at Duke University in 1991. His appointment followed a fellowship with renowned spine surgeon, the late Dr. David Selby, founder of the North American Spine Society.
Board Certification and Associations
A Life in Spine Medicine
Testimonials