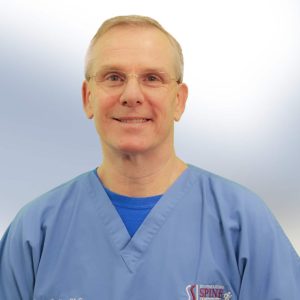 Background & Education
Board Certification and Associations
A Proud Member of the SSI Staff
Background & Education
Mr. Butler has a wide range of experience and education within the health care field. He began his career as a Physical Therapist Assistant at the East Cooper Regional Medical Center in Mt. Pleasant. While there, he also was the Director of Wound Care and an Emergency Room Technician. He did all this before joining the Southeastern Spine Institute in 2003 as a Physician Assistant in Spine Surgery.
Furthermore, Mr. Butler is affiliated with the East Cooper Regional Medical Center and with the Roper Hospital Systems.
It's safe to say that Mr. Butler has spent some time in school. He's earned two Associate degrees, two Bachelor degrees and a Master's from the Medical University of South Carolina (MUSC). The second Associate's was for his Physical Therapist Assistant Studies degree.
He graduated Magna cum Laude at MUSC for his first Bachelor degree in Health Sciences. His second was for a Physician Assistant degree. His Master of Science Degree in Physician Assistant Studies (MSPAS) completes his education, for now.
As part of his incredible education, Mr. Butler completed seven rotations in clinical sub-specialty training. All took place in South Carolina, and they culminated with a Preceptorship in Spine Surgery with Dr. Steven Poletti at the Southeastern Spine Institute.
Board Certification and Associations
A Proud Member of the SSI Staff