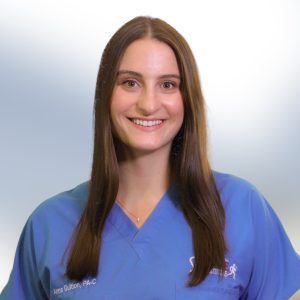 Background & Education
Ms. Guitton was raised in Augusta, Georgia. She moved to Charleston after completing PA school and has fallen in love with the lowcountry. She is so grateful for the privilege to partake in the full circle of patient care at SSI, from assisting in surgery to seeing patients in clinic. In her free time, Ms. Guitton loves to try the amazing restaurants in Charleston with her friends, take walks around the battery, and cheer on the Georgia bulldogs!
Ms. Guitton attended the University of Georgia and graduated Cum Laude with a Bachelor of Science in Psychology with Neuroscience Emphasis. After graduation, she worked at Piedmont Ear, Nose, and Throat in Atlanta to gain patient care experience as a medical assistant while applying to PA school. She earned a Master of Science in Physician Assistant Studies from Augusta University.  She completed a one-year Emergency Medicine and Telemedicine Physician Assistant Fellowship at the Medical University of South Carolina prior to joining SSI.
2019-2020 Emergency Medicine and Telemedicine Physician Assistant Fellowship
Medical University of South Carolina, Charleston, SC
December 2020
2017-2019 Master of Science in Physician Assistant Studies
Augusta University, Augusta, GA
May 2019, Pi Alpha Honor Society
2012-2016 Bachelor of Science, Psychology with Neuroscience Emphasis
University of Georgia, Athens , GA
May 2016, Cum Laude
2008-2012, High School Diploma
John S. Davidson Fine Arts Magnet High School, Augusta, GA
May 2012