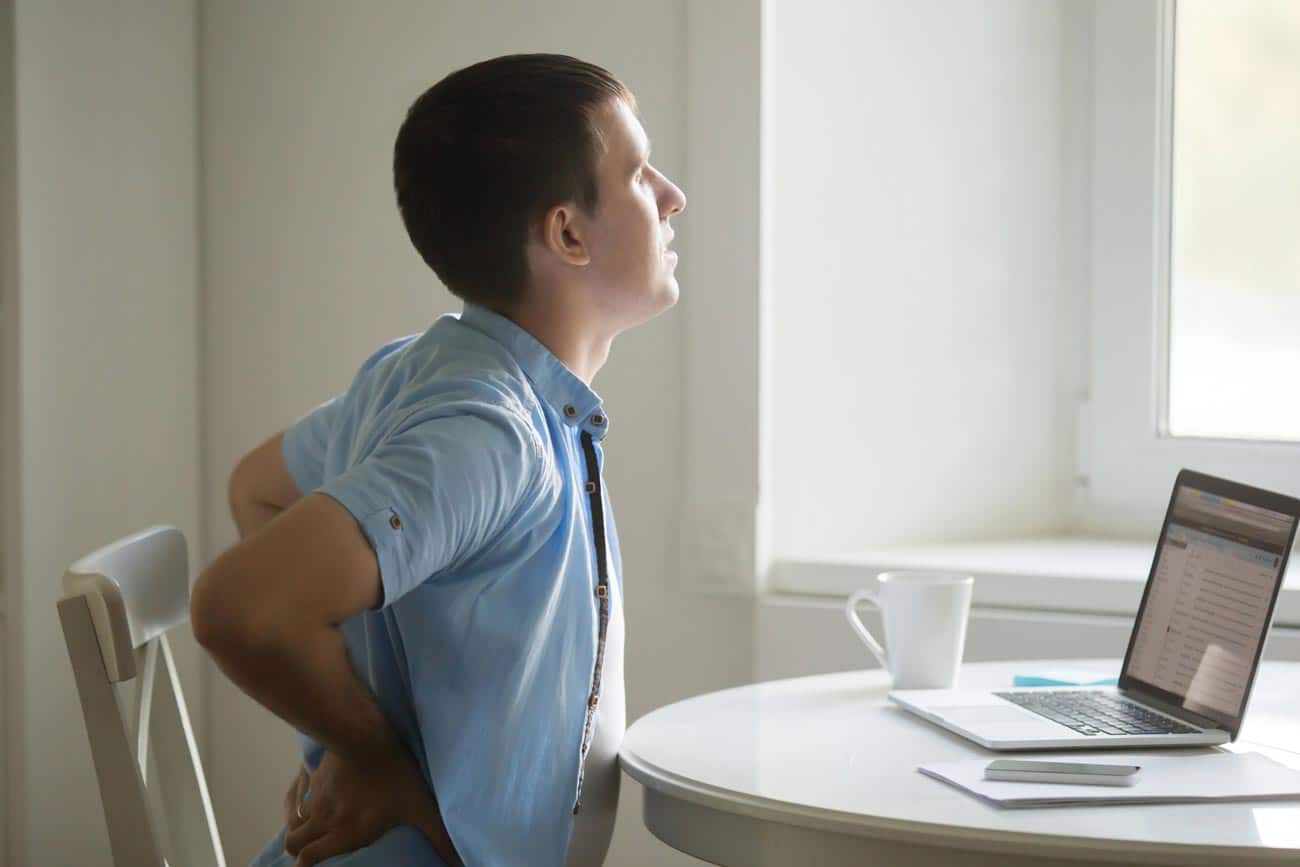 In 2020, more Americans work from home, but it's a trend that started long before the COVID-19 pandemic struck. While this shift in work location offers some advantages, it also presents some challenges. If you're among the millions of people who now work from home, either temporarily or permanently, you should learn how to protect your back.
Because you probably use a makeshift office without specialized furniture, you put your back at a greater risk of injury and pain. Back pain significantly affects your productivity. While your pain may result from a muscle pull, a ligament strain or a pinched nerve, it stops your work and may even make you reluctant to continue.
How Your Back Supports You
Your back consists of a large, complex group of muscles. They work together to support your core, holding your body upright. Any movement you make when seated emanates from your spine. Protecting your back while you work at home keeps you productive and makes sure that work doesn't interfere with the rest of your activities.
The spine powers the rest of your body. If you feel any pain or discomfort in your back or spine, it's hard to focus. That makes it difficult to do your job. Symptoms of back pain include:
A muscle ache
Shooting or stabbing pain
Discomfort when sitting, walking or lifting
Simple Ways to Protect Your Back
Now that you appreciate the importance of your back, consider the following tips to protect your back:
Set up your desk correctly. Your working posture determines how healthy your back muscles stay. To create a better working posture, place your laptop or PC at arm's length. The top of the computer monitor should be at eye level. Bend your knees at a 90-to-100-degree angle, resting your feet flat on the floor to ensure your back is straight.
Move once every hour. To avoid injuring your back, avoid sitting for an extended period of time at your makeshift desk. Set a timer for every hour. At the alarm, stand and move around. This simple technique relieves the pressure of your back and averts pain.
Use adjustable furniture. Most people found themselves working from home without prior plans. Now it looks like this new working model is set to become the norm. If that's the case for you, now is a good time to invest in adjustable furniture, including a desk to protect your back. An ergonomic desk and chair make it easier to maintain the right posture.
Use low-back support. Whenever you're working from a chair, make sure you have adequate lumbar support. Your lower back is vulnerable to muscle damage, since it carries the brunt of your weight while sitting. You can innovate by placing a rolled-up towel behind your lower back while you sit. This keeps your back straight and prevents back pain.
Do posture exercises. Sitting at your desk for long periods leads to back discomfort or even numbness, which can lead to pain. Prevent this by doing shoulder blade squeezes while seated at your desk. Other simple exercises include chin tucks, shoulder shrugs, seated leg raises, wall sits, chair dips, press-up back extensions and pelvic tilts.
When to See a Back Specialist
Try these techniques to protect your back. But if you notice that your pain persists, it's time to see a spine physician at the Southeastern Spine Institute. Easing back pain is their specialty.
At the state-of-the-art Mt. Pleasant, SC medical facility, your back doctor examines your back to arrive at a clear diagnosis. Then a recommendation follows for one of the many minimally invasive treatment options they offer. Don't suffer in pain when you can't protect your back while working from home. Call today for an appointment.