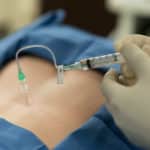 There is hardly a person left in this country that hasn't been touched by the opioid epidemic in some way. As more and more research concerning the dangers and dependence of opioid pain relievers continues to pour in, it's no surprise that opioid alternatives are one of the hottest topics in the medical industry.
Just because opioids were considered the go-to pain management treatment for so many years doesn't mean it's the only method for confronting chronic pain. You and your loved ones don't have to surrender control of your lives or your pain treatment to opioids. You should be aware that:
Several comparable means of pain management exist.
It may be possible to improve or alleviate your condition with a low-risk, non-invasive surgical procedure.
Medicine is making progress towards restorative treatments that repair the damage that causes pain, whether from injuries, age-related degeneration or arthritis.
You Have Options
The days of quickly written prescriptions are coming to a close. Opioid alternatives are proving to hold massive advantages over the traditional pharmacological means of pain management. Several more common treatment options include: