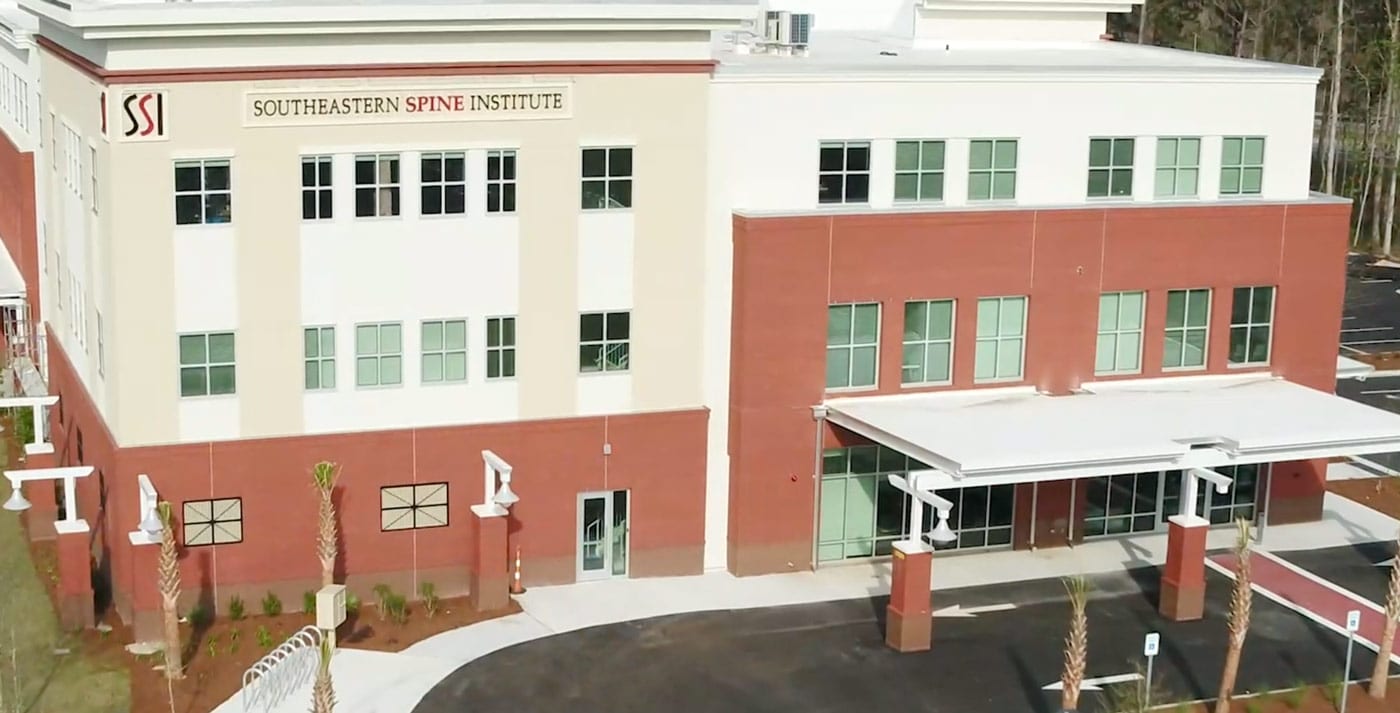 The Southeastern Spine Institute (SSI) is the largest medical practice in South Carolina exclusively specializing in spinal care. And its footprint just got bigger. SSI and its ambulatory surgery center previously occupied about 41,000 square feet on three acres of land in Mount Pleasant, South Carolina. As of March 2020, the practice moved to a new location on the campus of the East Cooper Medical Center at 1625 Hospital Drive.
Still in Mt. Pleasant, the new offices are less than 10 minutes from the previous location. The new 65,000-square-foot facility provides access to:
Six ambulatory surgery centers and outpatient procedure rooms
Added overnight capacity
Larger, state-of-the-art MRIs
EMG, digital X-ray and fluoroscopy capabilities
Expanded parking
Rely on SSI's Services
Services you've come to expect from SSI specialists and support teams continue to excel and expand. Procedures and treatments available include:
Spine blocks
Minimally invasive outpatient surgery
In-house pharmacy
Physical therapy center for spine-related conditions
Expert shoulder and joint care
Nerve testing and nerve conduction studies
Laser surgery
Same-day services, all under one roof, remain the mainstay of SSI. Most often, no overnight stay is necessary. But you still have access to the many fine hotels, dining and entertainment options in nearby Charleston, SC, at least during non-pandemic times. The SSI team includes:
Spine surgeons
Neurosurgeons
Sports medicine orthopedic specialists
Non-surgical rehab doctors
Pain management specialists
We've Come a Long Way Baby
SSI was founded in 1990.
Spinal physicians at SSI were the first in the South to perform an artificial disc replacement and the first to do an outpatient X-Lif procedure — an operation performed through your side to avoid cutting the muscles in your back. They were first spine doctors in South Carolina to successfully perform a percutaneous arthroscopic discectomy, which is an outpatient laser surgery used to repair herniated discs. Other examples of the endless achievements recorded at SSI include:
New and effective use of CT scans and MRIs for spinal diagnostics
A new model for the continuum of care, linking diagnosis, treatment and rehabilitation together into a single program under one roof
Combining MRI and fluoroscopy, perfecting guided spinal blocks, often bringing relief to those suffering from chronic nerve pain
Applying psychological techniques designed to manage pain and motivate faster recovery
Introducing aquatic therapy for pain relief and rehabilitation
Performing artificial disc replacement using the ProDisc Artificial Disc
As the practice continues to grow, the SSI team is committed to continuing its long history of innovation in the treatment of back issues and chronic pain. Contact the office for more information or to make an appointment.