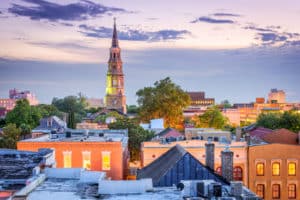 Visiting Charleston, SC, is a trip that's on many dream vacation lists. But not everyone has the resources to stay at the Wentworth Mansion or the Belmond. Not to worry — you can find inexpensive things to do in Charleston that will make your trip memorable.
No matter how you get to the Holy City, you want to land somewhere you can stay a while without breaking your bank account. Depending on how close to the action you want to be, you can find chain hotel rooms as low as $50 a night. If you opt to stay outside city limits, don't fret. With so many inexpensive things to do in Charleston, you won't be spending much time in your room.
Pack a Lunch and Go!
The best things to do in Charleston are also the free things. You don't need any money to breathe in the salt air and take in the view. As long as you know where to go, you can fill up a weekend or even a whole week. Plan on spending a lot of time outside, pack your lunch and head out!
The Arthur Ravenel Jr. Bridge is a landmark that's visible from all over the city. You can even walk across it — or better yet, walk to the halfway point to take in the view. The bridge extends over two and a half miles, so plan your day accordingly. Remember: there's plenty to do, and not all of it involves so much walking!
Inexpensive Things to Do in Charleston
Here is a list of recommendations. All are worthwhile stops, but your enjoyment may vary, based on personal tastes and the season:
Charleston City Market. You'll get a sense of the city's arts and crafts as you stroll inside the Market. You'll be tempted at every stall to buy crafts, gifts and food, but save your money for the really cool, small items that can remind you of your time in Charleston.
Rainbow Row. If you love architecture and history, this is the neighborhood to explore. The row houses were restored in the 1920s, and they've since taken on a life of their own. It's the most-photographed place in Charleston.
Charles Towne Landing. This adventure isn't free, but it's worth the $10 ticket price to see the first British settlement in South Carolina from 1670. It's a museum and a garden, with a sailing vessel reproduced from the era.
The Battery and White Point Gardens. In Charleston's historic district, at the top of the peninsula, you find pristine period mansions, large gardens and views you can't find anywhere else. Stroll down the boulevard and pretend you're going back in time.
Angel Tree. This ancient oak is said to have been planted in the seventh century. Today, it's a breathtaking sight, although you have to travel to Johns Island to take it in. It's one of the must-see inexpensive things to do in Charleston and a great place to picnic.
Folly Beach. If the weather's nice, hit the waves and dig your toes in the sand. If it's a bit chillier, dress warm and walk in the sand or just park yourself on a bench and take in the ocean scene.
There are other scenic spots, too, but you get the idea. When you want inexpensive things to do in Charleston, you won't get bored! Save your money for souvenirs or exceptional dining experiences at every price point. You can find excitement in Charleston no matter what your budget!