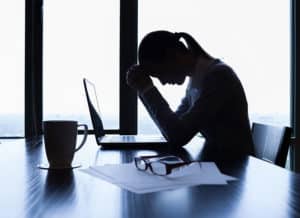 You've come a long way in this challenging journey. Now, you're at the point of preparing for back surgery. Each step closer has brought you more complex information to process, various solutions to consider and unfortunately, the possibility of depression. While you've bravely battled chronic pain and uncertainty on a daily basis, overwhelming worry and anxiety may have crept into your mind.
Perhaps you've found yourself with feelings of sadness, hopelessness, irritability or crushing fatigue. You might be developing issues with sleeping and concentration. Somehow your thoughts have turned against you, resulting in poor self-esteem. Facing your back surgery is a life-changing process, and the unwelcome psychic exhaustion of fighting depression might be coming along for the ride.
Before the Big Day
Make a list of your concerns to discuss with your doctor and loved ones. Try to ease the emotional burden of uncertainty as much as possible by becoming well informed about the surgical process. Enlist an ally to come with you to pre-surgical appointments to take notes and remember details you may forget.
Be sure to carefully define your circle of support; surround yourself with friends and family members who lift up your spirits. Practice self-care and give yourself a break from your daily routine. Now is a good time to treat yourself to something that brings you enjoyment.
Preparing For Battle
"Forewarned is forearmed," as the saying goes. So, when fighting depression caused by back surgery, preparation is crucial. One thing you can do prior to your surgery is to prepare a Wellness Recovery Action Plan (WRAP). A WRAP is a process anyone can use to develop simple, safe wellness tools.
Activities to consider including in your WRAP are establishing a regular meditation practice, joining a support group, exploring relaxation techniques and journaling. You're determining a daily maintenance plan of things to do to stay well mentally and to be successful in fighting depression. Write down what's important for you to remember. It helps ease your recovery process when depression may again come knocking.
It's the Little Things
When you prepare ahead of time, whether it's before a back surgery procedure or after you're home and recovering, you'll realize that it's really not that hard to spark joy when you need it most:
Watch a funny movie or TV show.
Play with your pet or borrow one to cuddle up with.
Get a daily dose of sunlight; open your blinds and sit near the window.
Make a gratitude list; keep it simple and heartfelt.
Spend time in nature; sit still and enjoy a beautiful scenic view.
Listen to your favorite music.
Call or email an old friend.
Read a good book.
Offer to help someone in need.
On the Mend
If you find yourself overwhelmed by fighting depression after your surgery, psychological counseling or behavioral therapy may be recommended by your physician. Also, the use of low-dose antidepressants may reduce depressive symptoms, as well as help to relieve pain because of the way they work within the brain.
Fighting depression may be difficult, but it's not impossible. Taking a small positive step everyday toward your goals substantially boosts your mood and gives you the energy to put your next recovery step into action. It's a winding road, but with the support of your friends, family and the team at the Southeastern Spine Institute, you'll be well on your way to healing both your body and your mind.