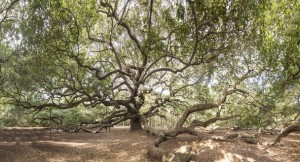 There quite honestly may be no better place in the world to enjoy some time with your family. Charleston is a slice of history, coated in Southern hospitality, and deep fried in a melting pot of culture. There are so many things to see and do that a single weekend in Charleston barely scratches the surface.
This is one vacation spot that has its bases covered. Regardless of the varying tastes and interests of your family, everyone will go home full of good food and lifelong memories. Following surgery or any other visit at the Southeastern Spine Institute, talk to your doctor about the level of activity you're up to and get his permission to take in a few of the sites.
Ocean Views
The beaches are an obvious attraction for a weekend in Charleston. The entire area is littered with beaches and barrier islands. But if you've recently undergone an orthopedic procedure, you may or may not be feeling up to a day at the beach. No problem! The South Carolina Aquarium is one of the hottest attractions in the area.
You get to fully experience the marvels of the ocean from the comfort and convenience of an indoor, climate controlled environment. The aquarium exhibits 60 unique aquatic habitats and an amazing 385,000-gallon "Great Ocean Tank."
Centuries of History
Charleston has one of the oldest and most diverse histories in the nation. The original settlement was called "Charles Town." It was settled by the English in 1670. From that day forward, Charleston was a major port city that made its mark on the world.
There are museums, historical sites, and tours to suit every taste. A particular one mile stretch of Meeting Street and its immediate area are known as "Museum Mile" and with good reason. It's home to:
14 museums and historic homes
13 historic churches
Here's a few of the more popular ones:
Charleston Museum of the Lowcountry
The Charleston Museum
Old Exchange and Provost Dungeon
Mace Brown Museum of Natural History
And there are also a variety of tours that won't require significant walking:
Ghost tours
Gullah tours
Plantation tours
Pirate tours
Culinary tours
USS Yorktown tour
Fort tours
You can even view the area ocean-side on the Charleston Water Taxi or The Schooner Pride. You could live in Charleston a year and still not get around to seeing every historic site!
Not a History Buff
If history's not your thing, don't worry. Aside from the aquarium and dining, you also may enjoy:
Checking out the animals at Charles Towne Landing. It's not your typical zoo.
Catching a Charleston RiverDogs baseball game.
Enjoying a South Carolina Stingrays hockey match.
Making your own pottery at Kiln' Time.
A weekend in Charleston has something for everybody. It's not even possible to be bored.
Time to Eat
After a long hard day on the beaten path, your family will be glad to settle in for an unforgettable dining experience. No weekend in Charleston would be complete without seeing for yourself why its culinary scene is world renown.
But you don't have to be a foodie to appreciate the fare. And there are several amazing restaurants that are kid friendly. Here are just a few:
Fleet Landing
The Alley
The Reel Bar
Burton's Grill
Rio Chico
A weekend in Charleston is not easily forgotten. Everyone in your family will have a favorite part or special memory. Let the city welcome your family with its charm and hospitability. It's a city you'll want to see again.