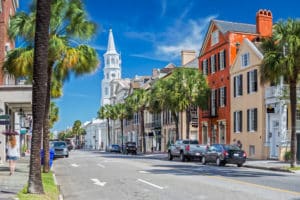 Charleston, South Carolina has been repeatedly voted as the number one small city in the United States. Charleston is known for its beautiful cobblestone paths and architecture steeped in American history. The port city's humid but breezy subtropical climate encourages year-round outdoor activity.
And while it's is one of the most walkable cities in the nation, a bicycle tour of Charleston, SC is the perfect opportunity to survey the city, experience some history, and quickly discover more of the city and the surrounding natural areas. If you visit the Southeastern Spine Institute (SSI) frequently or just come in for a procedure once, consider trying a bicycle tour of Charleston, SC. Before you undertake a bike tour or any other outdoor activities, however, first get your doctor's permission.
Guided Tours of Charleston
While you can take a self-guided bike tour that allows you and your family and friends to enjoy open-ended planning to ride in the city or in the local forests. If you're new to town or don't feel all that adventurous, a guided tour may be more your style. The most popular guided bicycle tour company in town is Charleston Bicycle Tours.
This tour is a great option for a guided riding experience through Charleston, which is just 20 minutes from the Mt. Pleasant SSI campus. The business is owned by the Grahams, a couple who personally manage every single bike tour. They take 10 riders at a time to permit a more intimate, personal journey through Charleston. The seasoned tour guides accommodate the pace of any riding group. Find Charleston Bicycle Tours at 164 Market Street.
Self-Guided Tours of Charleston
Self-guided bike tours are the best option for a group wanting to dictate pace, distance and location. The bike rental locations have recommendations for a bicycle tour of Charleston, SC that any rider can participate in and enjoy. A commuting option includes Holy Spokes, which offers day rentals with many bike racks around the city.
The Affordabike store offers a variety of options for individuals or groups. Affordabike's rental service champions their commitment for making sure you're on a bike that's comfortable and right for you. The rental options include single rider, tandem and tag-along bikes for the rider who can't pedal the entire time. Affordabike is located at 573 King Street.
Take a Natural Bicycle Tour of Charleston, SC
In and around Charleston, you'll find many trails, including the Marrington Plantation and Wannamaker North Trail. The Marrington Plantation offers 19 miles of trails across varying levels of ridership skills. The Wannamaker North Trail is a 3.5-mile trail where only one path isn't for all riders. All of these loops can be cut short for a quicker trip. Ride through verdant forests and feel the movement of dirt under your wheels to appreciate Charleston's scenic beauty.
Charleston, South Carolina offers the opportunity to get up close and personal with the nature and history of this Southern seaport on the seat of a bike fit just for you. When you next come to SSI, consider visiting this city rich with activity and natural beauty while participating in an activity that's brimming with culture and strengthens your back.